Pre-School
Our Pre-School room caters for 30 children from 3 years to school age. This room prepares them for their transition to school. There is a wide variety of activities within the room to help your child's development from discovery play and mathematical development to a variety of arts and crafts.
We follow The Early Years Foundation Stage (EYFS) which is a framework of guidance for every registered early years setting (including schools) working with children from birth to 5 years. It consists of 4 Themes & Principles, each of which is underpinned by a set of commitments which detail how the principles should be put into practice. This means that every person working at Little Darwins must provide an environment where all young children feel included, safe and valued.
As parents you should be confident that while your child is being cared for and educated at Little Darwins their individual learning is nurtured, developed and extended through a wide range of positive experiences and play.
Pre-School Room Blog
admin on: Pre-School Room Blog
This month in preschool we have been learning about many new and exciting things.
Firstly we celebrated harvest festival. For this topic we explored various foods, where our food comes from and why the harvest is so important. During our celebrations of harvest festival we visited the All Saints church in Rettendon, where we listened and took part in a harvest service. Reverend Brenda showed us many different fruits and vegetables from the harvest, such as wheat, apples, and tomatoes and corn. Whilst at the church we offered our donated items from home, which have been given to a homeless shelter in Southend.
Following from harvest we have celebrated pumpkins. Throughout the nursery we had many activities, which included pumpkin carving, seed sorting, pumpkin painting, collages, pumpkin sensory trays and we made our own pumpkin soup. Thank you to everyone who brought in their pumpkin creations from home they were fantastic.
We are currently celebrating and learning about Diwali, look out for our Rangoli patterns drawn outside of the nursery.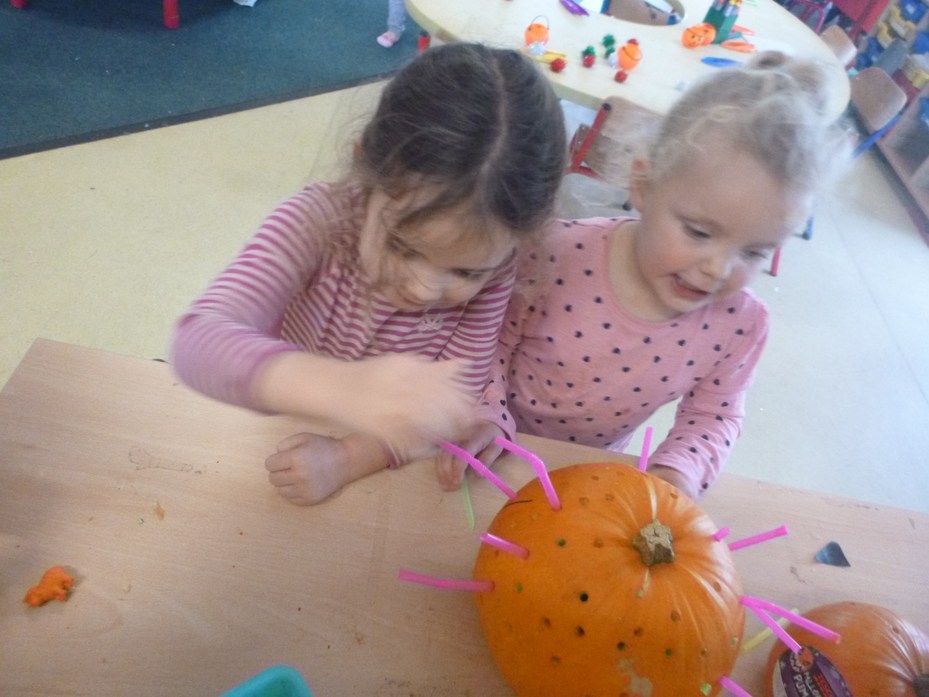 ---
admin on: Pre-School Room Blog
Learning Goals : Jumping from two feet
Over arm throwing
Recognising numbers 1 - 5
Updates: Our first day back is Friday 2nd September
(Please remember children need plimsolls, PE kit for those children who attend Monday and Wednesday am sessions and appropriate clothing we like to get messy.)
In August in preschool we have been exploring the topic of Rio Olympics 2016 which started on 5th August. To celebrate this event we have been making Olympic rings in arts and crafts as well as making Olympic flags. Children have been cheering on Team GB when watching the various events on our smartboard.
In addition to celebrating the Rio Olympic games we have been talking about how we keep our bodies healthy and the importance of exercise and eating healthily. We have been taking part in various sports and exercises related to the Olympic games i.e. shotput. We have also made our own healthy lunch boxes to display and promote our healthy eating.
---